Arriving to Pécs from sunny Valencia, I was met by somewhat colder weather and a language that did not resemble anything I've ever heard before.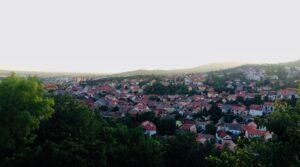 With a national election coming up, the city was wrapped up in political ads and the faces of at least a dozen different candidates were lurking from just about every lamp post I passed. A majestic TV tower overlooks the city, offering a convenient point of reference for the lost newcomers. With its impressive 197m, the Pécsi TV-torony is hard to miss, especially at night, when the structure is illuminated in an ever-shifting array of colors. On the first 'official' day of my secondment, I wandered into a beautiful 20th century building with stained glass windows and Latin phrases inscribed across the painted walls. University of Pécs Faculty of Business and Economics is the second oldest School of Economics in Hungary and one of the more emblematic buildings in Pécs. I was excited to meet my co-supervisor, Professor Katalin Erdős, in person. Kati and I had previously agreed to concentrate my stay on building some advanced methodological skills, particularly with regards to network analysis, which is my field of research. Still, we had to craft a tangible action plan so I could hit the ground running and so we did.
Over the next few weeks, I tried to adapt to my new home, adjust my routine and meet as many people as I could.
Thanks to Kati, I had the opportunity to give a seminar on my research progress within the first month, which was mostly targeting PhD students. The seminar was also streamed online so that other members of the POLISS community could tune in. I was allowed to attend a full course on social networks in geographical space and give a guest lecture in one of Kati's economics classes for undergraduate level students. Admittedly, it was my first teaching experience and it illuminated the overwhelming amount of resources that go into preparing a single class. Yet, it was extremely rewarding as well.
My secondment was also an opportunity to establish connections with a diverse group of network experts from the ANET lab, based in Budapest. The geographical proximity turned out to be a nice confounding factor in helping me expand my own network beyond the POLISS community. I visited the ANET lab on several occasions, once to share insights from my research paper and gather feedback and a second time – to attend an intensive one-day course on the use of stochastic actor-oriented models (SIENA package). In hindsight, the goal of developing advanced methodological skills was materializing better than expected.
My secondment is coming to an end, but the knowledge and the friendships will stay with me well beyond the end of the POLISS project. As I bid this beautiful city and its charming TV tower a heartfelt farewell (or szia szia as Hungarians would rightly correct me), I want to thank Kati for her support and warm welcome. To the faculty members who engaged with me in discussions – I am extremely grateful. To all the PhD students I got to meet along the way – you made this experience worthwhile. And last but not least, I want to thank Alejandro and Patricio for funding my coffee breaks at MEDI 🙂
Köszönöm szépen.